Before and After Website
This is as good as one of those exercise infomercials when an advertiser shows  "before" and "after" images of an overweight person and miraculously 30 days later, they are sleek, toned and gleaming with pure joy.
Luckily, I get to see these stories everyday in my work.  It's very satisfying when a client has a desire for change and I can help.  It's always thrilling to be a part of the transformation in the business makeover.  The best part, increasing revenue for both parties is icing on the cake.
This is the case with Rodriguez Pools & Spa.  Before the development of his new website, Armando Rodriguez mailed contracts out to all of his customers before pool opening season to schedule service and then again, for closings.
Now, Rodriguez Pools and Spa offers several types of service and maintenance packages as opposed to one.  His current customers can choose which package fits best and download the maintenance form from the website.  More importantly, he can also attract new customers.  We have increased his revenues and affected his visibility by implementing search engine optimization (SEO) created within the web content.
Before 
After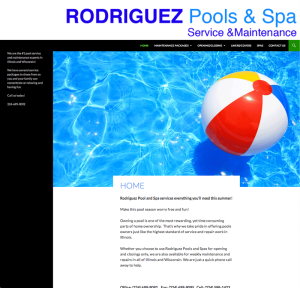 RSP Home Page
After RPS Website
If you would like more information for your business makeover, pick up phone and give me a call!  
Cindy Roth 630-513-6388
You can also visit us at www.RPMDesignPro.com