BIG BANNER FOR TRUE NORTH BERRY FARM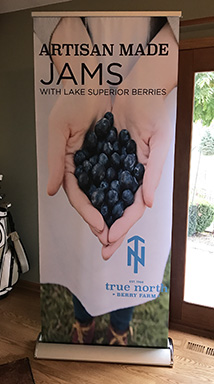 This gorgeous retractable banner is going to grab the spotlight at The Artisan Craft and Food Fair hosted by Heritage Prairie Farm in Elburn, Illinois  this month.
True North Berry Farm owner, Lisa Hendrickson, needs to stand out at this popular event is vital as she introduces 3 new uniquely flavored blueberry and strawberry jams.  RPM designed this banner to capture the fair attendee's attention to let them know immediately what the product is using spot-on typography and phenomenal imagery upon entering the booth.  The retractable banner is 33″ x 81″ on a deluxe stand.  It's a snap to set up and take down and has it's own carrying case making it easy for traveling to the many events Lisa will attend to promote her blueberry goodies.  More specifics can be found here.
In the first year of blueberry jam production, True North Berry Farm created True Blue (my fav). It's flavored with gin – yes, you read that right, juniper berries and sage.  This year, no different from the first, more creative flavors were added to the jam fam.  Sure Red, with limoncello and pepper,  Blue Collar, with port beer and Blue Heat flavored with brown chipotle peppers.
It will be fun to follow their success!