Lucky customers of Chicago Scenic Studios received a jar with original confetti from the Blackhawk's celebration from Soldier Field on June 17, 2015.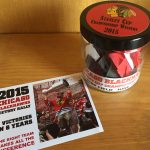 RPM Design + Production designed and produced the label on top of the jar, the insert/band inside the jar and the small flyer that accompanied each package.  Chicago Scenic Studios prepared Soldier Field provided the staging for the massive event.
Additionally, in collaboration with Chicago Scenic Studios, confetti jars were also produced for the 2010 and 2013 championships.